Celebrating the Megametre Milestone
It was somewhere near Smiths Falls, Ontario. Sometime after the collection of the comatose nephew in Edmonton, the in-cab detonation of the fire extinguisher in Winnipeg, the first dual-port dog eruption in Toronto, and the expiration of the coolant thermostat in Kingston.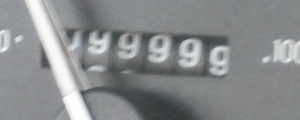 (Image fuzzy due to motion, or perhaps due to the roiling hot air from the heating vents, turned on full to draw away excess heat from the overheating engine on that 30C day. My gas-pedal toes were a-sizzlin'.)
And then we reached the megametre.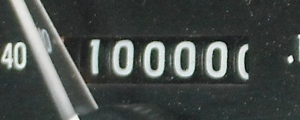 Not bad for a ten-year-old small truck, although that small tick on the rolling dial did knock off a good chunk of its residual value.
Next stop: the Moon.