It's been just shy of a decade since I first rolled into the territory. That's a decade of Outsiders asking "why'd you go way up there anyway?" I have many canned replies: pace, wilderness, community, challenge, atmosphere, and getting as far away as possible from you inquisitive buggers.
But I think there's one secret reason that newcomers prefer not to acknowledge: "The Yukon" is a frickin' cool name.
First off, anything that begins with "the" is awesome: The Hague, The Hulk, The Who.
Then there's the word "Yukon"; a word imbued with mystery, remoteness, treasure, the feral soul of the uncivil adventurer, and, well, cold.
Any name like that is gold to marketers. But "Yukon" is inevitably misused for products that have no earthly relationship with our triangular territory.

For example, while visiting Ontario this summer, I ran across a display of "Yukon Oak" flooring at a Home Depot in Timmins. It seems to be a blondish shade of regular oak.
Dear plank purchaser: don't be deceived. There are no oaks in the Yukon. There aren't even trees large enough to pretend to be oaks.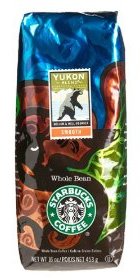 A hasty googling suggests that "Yukon Oak" only exists within the realm of laminate flooring.
And who among us has not smirked at a coffee shop down south advertising its Yukon or Klondike blend?
To be sure, there are at least two excellent coffee roasting companies in the Yukon. But their raw beans are shipped from very, very far away. For some durned reason, coffee plants don't take to our mountainsides.
Funny, he never asks for a second cup of Kluane Koffee at home!
Let's not forget the Alaska Klondike Coffee Company, which packages two misdirections into its Missouri-headquartered title.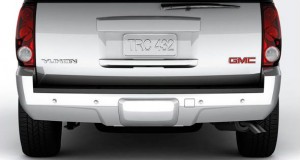 Then there's the GMC Yukon Denali enviro-nuker. Leaving aside the pesky detail that Denali is actually in Alaska, there is no component, part, or accessory of this pavement pounder that is designed, manufactured, or assembled in the Yukon.
There are, it must be said, a fair number of these luxuriously appointed cinder-blocks trundling about the territory. Strange that we don't see them sharing the Alaska highway with Ford Oshawas, Chrysler Michigans, or Toyota Woodstocks. I guess those names just aren't tongue-rolling material.
There's no shortage of these products that just ain't Yukon. More to follow...